Russell is ready for Nikki Sixxx. Maybe it should be the other way around though because the older babe makes the first move in this video from See Mom Suck. Russell is at her house to chill out with her son who happens to be at the mall. Almost instantly, the blonde nympho sees an opening for her to have some fun with the younger dude. Never one to miss a golden opportunity, Ms. Sixxx invites the long haired dude to her bedroom and the rest, as they say, is history.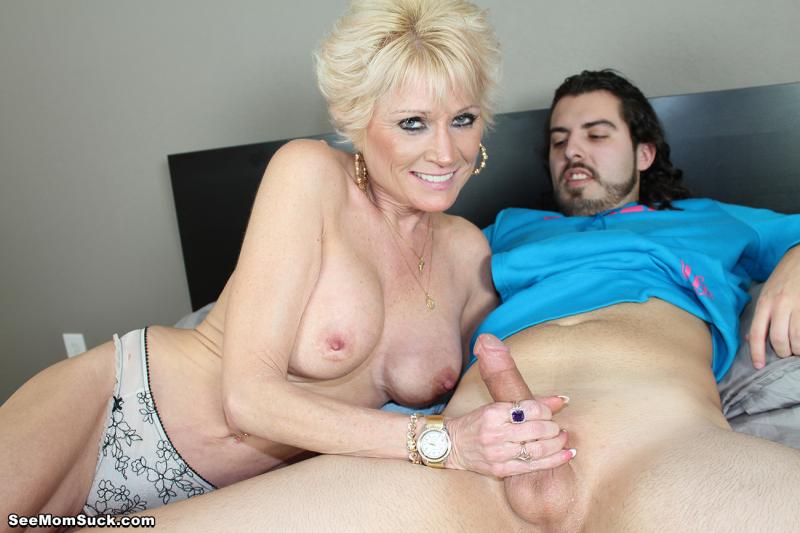 Russell doesn't know how to react when his best friend's mom starts flirting with him. He doesn't stop it either. There's something incredibly hot about having an older woman hitting on him. He's determined to ride out the flirtation and see where it leads. The answer comes soon enough when Nikki Sixxx lays him on her bed and immediately heads down below his waist. This cock hungry babe is obviously not good at small talk and would rather let her actions do all the talking.
She goes straight for a thorough deep throat. This catches Russell off guard. He closes his eyes as he tries to fight back the load rapidly making its way through his balls. He doesn't want to cum too quickly and end his fun with Nikki Sixxx. She can feel him tensing up so she sucks him off slowly and then switches to a stroking that focuses on his dick head. This is all it takes for Russell's load to come flying out of his cock! Now all he has to do is shut his mouth up about their little handjob and blowjob adventure.