Kali thinks she's doing the right thing by introducing her man to her mom but what she doesn't realize is that this one move is about to back fire in her face big time because the first thing Gina notices about the new boyfriend is the bulge in his pants and she knows she absolutely must taste it. Later in the night, the orally fixated MILF sneaks into the unsuspecting man's room and starts giving him head. The busty babe busts them in this episode of SeeMomSuck.com but she has no intentions of being on the sidelines so she joins them!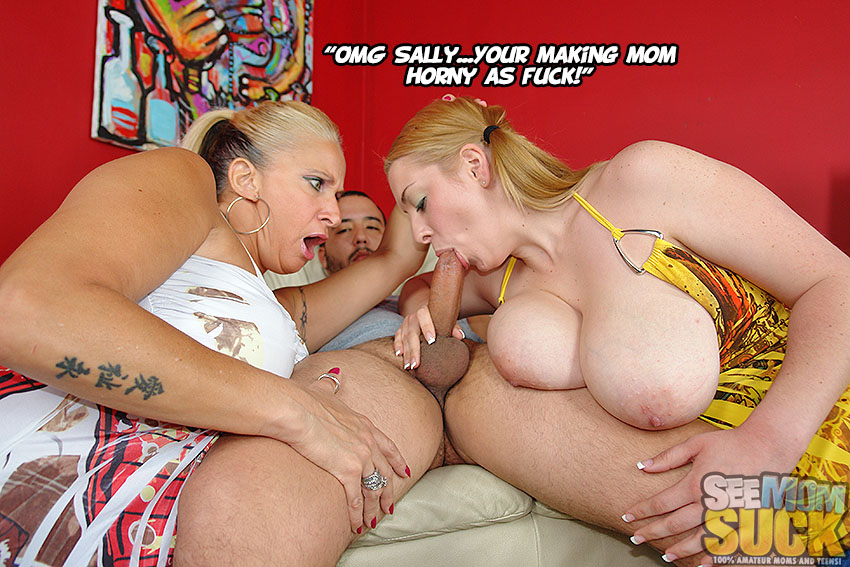 Walking in on your mom orally servicing your man would crush anyone and it temporarily pisses Kali off but she decides to flip the card by popping her big tits out and opening her mouth for some cock licking and sucking. Gina is a sharer by nature so she makes way for the big chested teen babe and even holds back her ponytails when she sinks her mouth on the big erect penis. The apple clearly didn't fall very far from the tree because the teen is as good at oral sex as her mom is!
The two nymphos take turns slobbering all over the cock and the real winner here is the man who gets to feel two warm mouths vacuuming his mouth individually and sometimes at the same time. He tries to hold back for as long as he can but soon enough, he can't help but let go and when he does, Gina points his throbbing cock at Kali and empties all its contents on her big rack and face.