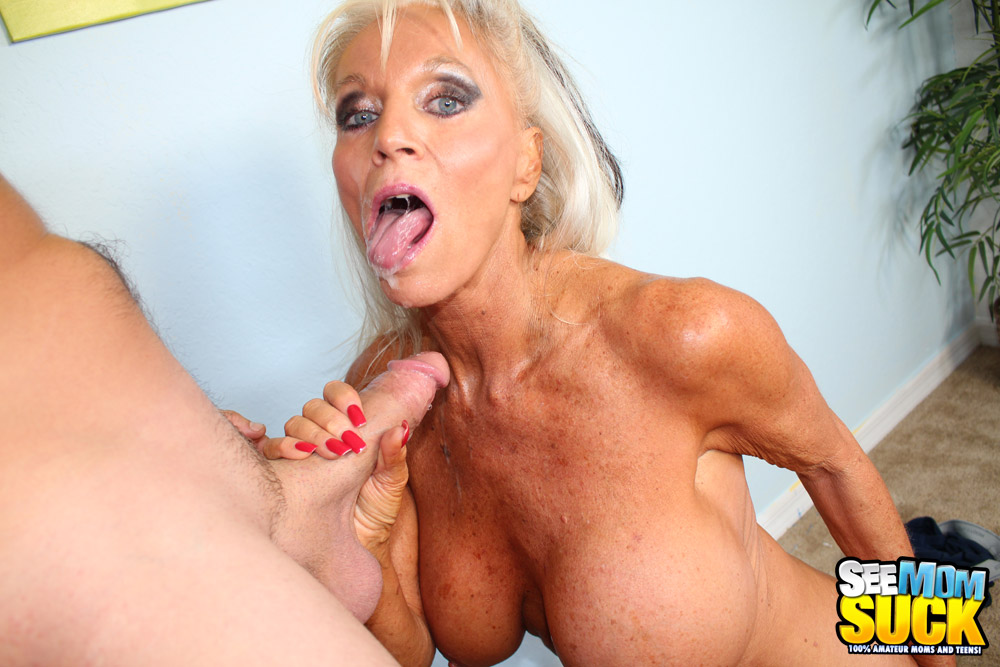 Billy just turned fully legal and his very horny step mom has a belated birthday present for him in this episode from SeeMomSuck.com. Her present doesn't come wrapped in fancy gift wrapping paper and it most certainly doesn't have a ribbon and a bow attached to it but its wet and warm and its better than any gift anyone gave him on his actual birthday. It's Sally D'Angelo's mouth and the minute she puts it to work on the teen's throbbing hard cock, he has no option but to cum really hard. This is without a doubt the best birthday present ever.
Its very evident by the way Sally D'Angelo attacks Billy's cock with her mouth and hands that she's been very eagerly counting down the days until his 18th birthday. She's had an eye on him and his cock and the day after he turns legal, she pounces on him and gives him a blowjob he'll never forget. The busty blonde babe squeezes in between Billy's legs and grabs his cock, chomping down on it while massaging it with her hands at the same time.
She flicks the sensitive rim of his cock head with her tongue right before she continues slobbering all over the big dick. Billy is having so much fun mouth fucking his step mom and he almost bursts a nut when Sally D'Angelo pulls his cock out of her mouth and shoves it in between her massive rack! The titjob and blowjob are more than the horny lad can handle and soon enough he erupts all over the mature babe's pretty face.