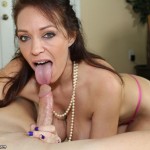 It's one thing for your mom to embarrass you infront of your friends and it's a whole other thing for her to straight up unleash her inner cock sucking slut right infront of you and your buddy and yet that is exactly what Charlee Chase does in this extremely raunchy MILF cock sucking video from SeeMomSuck.com. The brunette vixen shamelessly crashes the couch party her son and his friend are having and then proceeds to suck off her son's friend with such reckless abandon that watching her swallow that big dick will make you shoot out your own load.
Billy invites his friend over to hangout and midway through their chill time, his mom waltzes in wearing just her bra and panties. Naturally Billy is humiliated and understandably pissed off at his mom but Charlee Chase couldn't care less about her son's feelings and promptly banishes him from the room so she can have his way with his friend. Before Billy can even make it to the door, his mom reaches into his friend's pants and starts caressing the bulge that's already forming in his pants.
Then the bold mature babe wraps her expensive pearl necklace around the hard dick as she sinks her warm mouth down on it. The combination of the friction from her wet mouth as well as from the necklace gets the cock even harder and then she alternates between sucking it, jerking it and rubbing it in between her tits until the cum dam bursts wide open and a steady stream of jizz shoots out of it. Does Charlee Chase taste the cum? SeeMomSuck.com has the answer to that question!